Tree Injection Service



Use Direct-Inject System — the only no-drill tree trunk injection method that is easy, fast, proven effective and tree-friendly.
The Wedgle Direct-Inject System is the fast, effective, tree-friendly way to treat trees for a broad range of destructive pests, harmful diseases, and nutrient deficiencies including reduce risk of Pine Wilt Nematode, Emerald Ash Borers, psyllids, aphids, Oak Wilt, Dutch Elm Disease, Anthracnose, chlorosis and growth regulators.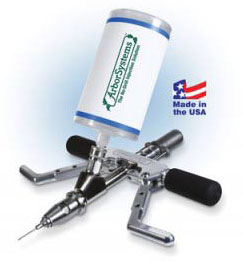 Closed system
Virtually eliminates exposure concerns. No mixing, no caplets, no spraying or soil drenching concerns.
With no drilling required, the Wedgle Direct-Inject System:
• Minimizes wounding to keep out fungi, bacteria and insects.
• Prevents air from getting into the tree. When air is allowed into a tree's vascular system, it cuts off the flow of water and nutrients.
• Allows multiple treatments without damaging the tree.
• Requires no drills, power supply or other bulky equipment.
This system lets a single operator achieve season-long control in just seconds per injection site, with a treatment method designed to protect tree vigor and prevent long-term wounding. Accessories and carrying case included free with standard unit purchase.
---
Pinscher PGR:
End messy fruit and seed cleanup.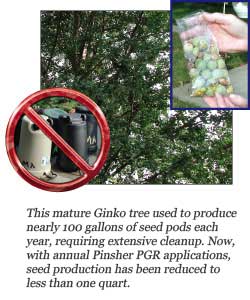 Pinscher PGR greatly reduces flowering and fruit/seed set without compromising tree health. Annual applications of Pinscher PGR will substantially reduce cleanup, maintenance labor, and associated costs.
Indications
Use on ornamental trees with undesirable fruit or seed production that requires ongoing cleanup or causes turf maintenance problems.
All sweet gum tree buds produce flowers immediately in spring when the buds emerge.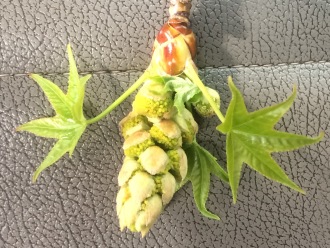 Below is a picture of a sweet gum tree bud after the tree has been treated for 2 seasons. It has no male or female flower. The bud on the right is what a typical sweet gum tree bud looks like with the leaves, male and female flowers present.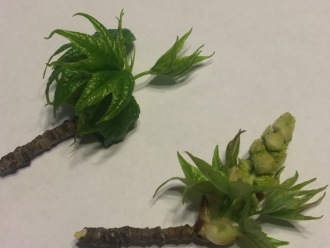 ---
Greyhound Insecticide:
Delivers proven results compared to foliage spray.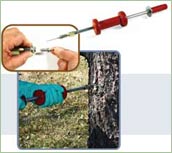 Effectively Inject Conifers and Pines
ArborSystems specially-designed Portle Tips and Tip Setter places the chemical into the active areas of conifers where it can be easily absorbed.
We treat more types of trees, more effectively with ArborSystems tree trunk injection hardware and chemicals. Chemicals are delivered fast and effectively at a known dose rate with virtually no environmental exposure associated with foliage spray. ArborSystems offers the ability to provide direct-inject treatments of the following trees and plants:
• Conifers
• Pines
• Firs
• Spruces
• Evergreens

• Scots pine trees
(Scotch pine)
• Hemlocks
• Palms
• And more…
Prevent Diplodia Tip Blight
A single application of Shepherd Fungicide provides protection (suppression) against Diplodia Tip Blight. Treatments can be made any time during the growing season including the fall. Treatments made during one year generally carry over to the following year, providing a minimum of 12 month preventative and curative protection. Click here for more information on Shepherd Fungicide.
Reduce Pine Wilt risk One application of Greyhound Insecticide reduces Pine Wilt risk for up to 3 years. Treatments can be made during the Spring, Summer or Fall. Click here for more information and a research study conducted by University of Nebraska. Click here for more information on Greyhound Insecticide.
---
Pointer Insecticide:
Most effective control of Emerald Ash Borer (EAB)

Pointer is one of the most widely used and proven-effective insecticides on the market today. Pointer provides reliable systemic insect control on a wide variety of landscape ornamentals.
Insects Controlled
• Adelgids (including Hemlock Woolly Adelgids)
• Flatheaded Borers (including Emerald Ash Borer, Bronze Birch Borer, and Alder-Birch Borer)
• Aphids
• Elm Leaf Beetles
• Black Vine Weevil
• Eucalyptus Longhorned Borer
• Japanese Beetles
• Lacebugs
• Leafhoppers

• Leafminers
• Mealybugs
• Sawfly Larvae
• Pine Bark Beetles
• Pine Tip Moth Larvae
• Psyllids
• Royal Palm Bugs
• Soft Scale Insects
• Whiteflies
Call for a free estimate 316-685-1794.