Lawn Fertilization Program Wichita, KS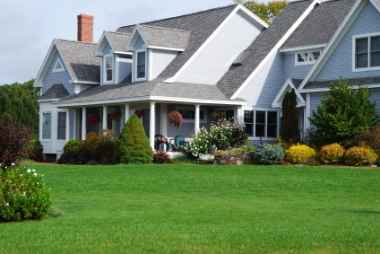 Beautiful lawns don't happen naturally. Let us worry about, so you can enjoy it. We're the "Go To Guys" for lawn fertilizing Wichita.
Below is a brief outline of my 4-step fertilization program that is custom designed by me for our cool season lawns here in Wichita. I use only dry granular fertilizers as apposed to liquid applications, the main reason for this approach is that with liquid applications all customers get the "same mix" with dry applications it allows for a much more "custom fit" for each of our customers.
First Application: March. Pre-emergent (.10% Dimension) plus fertilizer with a formulation of 19-0-6. Kansas State University studies here in Wichita using .10% Dimension + fertilizer has been quite effective in the control of crabgrass and eight other grassy weeds. While pre-emergents are effective in the control of grassy weeds they do not take care of most broadleaf weeds (i.e. dandelions, henbit, chickweed etc.). If Dimension is applied you will have to wait 12-16 weeks before you can overseed. Our program will use spot spray broadleaf control after the early summer and early fall applications to control broadleaf weeds.*
Second Application: May-June. The second application will also be a .10% application of Dimension + fertilizer 19-0-6 this will protect against any crabgrass through the summer. Plus this application will feed your lawn though the summer. A spot spray for broadleaf weeds will also be done this time if needed.*
Third Application: I feel that an application of fertilizer is not necessary during the summer months. This is the time of year when our lawns in Kansas are more susceptible to fungus and a feeding containing nitrogen can feed the fungus and exacerbate the problem. This application will be an application of "Drive 75" which is an excellent crabgrass and broadleaf weed killer.
Fourth Application: September-October. All purpose fertilizer 24-0-11. This application is very important to the building of a strong root system. The high phosphorous (24) is very beneficial in building a strong root system enabling the turf to withstand a harsh Kansas winter. The fall is the most important times of year to fertilize. Spot spray for broadleaf weeds if needed.*
Fifth Application: November. This application will round out the season with a 34-3-11 formulation getting your lawn ready for winter and providing the necessary amount of nitrogen (N) to insure a nice green up come spring.
All products are coated with sulphur; this is beneficial in three ways: 1. to guard against chemical burning of the grass. 2. Sulphur is very important in maintaining a proper pH; most soils here in Wichita are sulphur deficient. 3. The coating allows the fertilizer to slowly break down thus giving a much longer feeding.
Please keep in mind that granular fertilizers take longer (about 10 days) to see positive results than those of the liquid varieties, however, the long term benefits of a granular program are, in my opinion, superior.
My philosophy is that I do not like to "blanket spray" your entire lawn with chemicals unless there is an infestation of broadleaf weeds or insect problem. I want our program to be conscience of our environment.
Watering is recommended for best results, unless otherwise specified in the information placed on your door at the time of application.
*An extra charge of $4.00-$6.00 will be applied for application of broadleaf weeds.

Kansas Business Pesticide Business License #6007
Give us a call for a free estimate 685-1794.