Lawn Fertilization Program Wichita, KS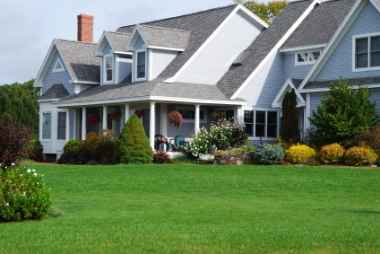 Beautiful lawns don't happen naturally. Let us worry about, so you can enjoy it. We're the "Go To Guys" for lawn fertilizing Wichita.
We've changed what we do with fertilizer taking a more organic approach.
Our program is a multiple step approach to creating the best growing environment for your lawn. We have designed our program to give the quick results you expect and provide your lawn with the environmental benefits that you can feel good about.
Organically enhanced lawn care is a fertilizing program that combines both principles of conventional lawn care and organic lawn care. We use the synthetic fertilizers and herbicides to get quick results and use carbon sources to build the soil, correct problems that conventional programs cannot and give exceptional long- term results.
Here at Terre Vista we have created a program that has tremendous value at a competitive price.
Our program includes:

Synthetic and carbon based fertilizers.
· Micro Nutrients
· Pre-emergents
· Grub control
· Sea Kelp
· Humic and fulvic acid
· Liquid aeration
· Nut Sedge control
· Provides increased Microbial activity in the soil
Benefits of Humic Acid:
· Increases the cation-exchange capacity (CEC) in soils.
· Chelates macro and micro nutrients making fertilizers more efficient and 'plant ready'.
· Improves soil structure, increases the soils ability to hold moisture, and allows the roots to more easily move through the soil.
· In clay soils it helps to structurally unpack the clay and allows nutrients to move more efficiently. In sandy soils it helps add soil structure to prevent run off of fertilizers.
Liquid aeration
There are lots of liquid aeration products on the market. Ours is NOT a soap, shampoo or wetting agent. We use humic acids and potassium hydroxide to help open the pores of the soil allowing more water and nutrients to enter into the soil profile allowing for healthier, deeper roots. Deeper roots allow the turf to handle more stress given by the tough Kansas environment.
Mechanical aeration only covers approximately 8 % of the soil area. Liquid aeration covers the entire yard. Liquid aeration better 'aerifies' the soil but doesn't completely replace mechanical aeration. During the time of seeding you still want to aerate or slit seed because you need the increased soil area to allow the seed to soil contact needed to germinate.
You don't have to mark heads or use heavy expensive equipment.
Sea kelp
The ocean is the harshest growing environment on our planet. It is in this environment kelp has found a way to thrive. Kelp extract takes what helps the sea kelp thrive and provides it to your turf. As a result, sea kelp extract helps improve stress tolerance in the turf.
Benefits of Sea Kelp
*Contains the plant hormone Cytokinin, a growth hormone that promotes cell division in roots and shoots
*Stimulates biological activity in the soil which congregate along root hairs, increasing root mass
*This enhanced 'rhizophere' allows the turf to become more resistant to environmental stresses
*Sustainable source of fertilizer
*Contains over 70 vitamins a minerals

Kansas Business Pesticide Business License #6007
Give us a call for a free estimate 685-1794.