Lawn Mowing Services Wichita, KS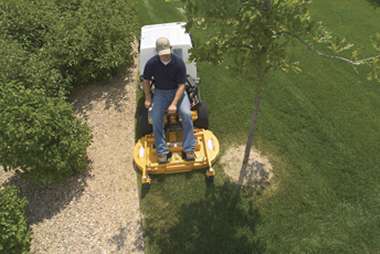 Mowing is at the heart of our business. We have been in business for just over 22 years here in Wichita, I have seen many businesses come and go and I feel that we owe our very existence to this service that we provide to our customers. Our basic service include:
Mowing (weekly service approximately 32 per season April thru November)
Edging (edging along driveways, sidewalks, patios etc.)
Trimming (trim around trees, mailboxes, etc.)
Blowing ( all driveways, sidewalks, and patios to be blown off after each service)
Hauling away all clipping. We have been recycling our clippings since 1993.
Like I said earlier mowing is at the heart of my business and nothing gives me more satisfaction than leaving our customer's lawn with that "perfect striped" look, much like the outfields of Major League Baseball stadiums. The stripes are created when we change directions each week that we mow. We do this for two reasons one just simple esthetics and the other is that it is better on your lawn to help reduce soil compaction and general wear and tear.
Our blades are sharpened every other day to ensure a proper "clean cut." We bag all clippings for our customers to make sure that there is not a build up of thatch and I feel that it is just a cleaner, tidier look. Since 1990 we have recycled 100% of our clippings turning them into reusable compost.
When cutting your lawn we use the 1/3 rule, which means that we do not remove more than 1/3 the total height of your grass between cuttings. Fescue grass, [which 95% of our customers have] should be mowed at 2 ½" to 3 ½" and Bermuda grass (warm season) can be maintained at a height of 1-2 inches.
I have personally trained all our employees with the equipment; I feel that this is the only way to ensure they treat your lawn like I want them too. I am very picky in the way our customer's lawns are treated that is why from season to season we maintain a 97% retention rate with our customers.
My customers know that from week to week they are going to get that same consistent job week in and week out. They also tell me they love the fact they can set their watch to the time that we are there each week, once the schedule is set we are very punctual.
Lastly my customers tell me that love our newsletter, the Grassette, that I publish monthly during the season; it is full of seasonal information, interesting things, and recipes; and every once in awhile I will get on my soapbox and just vent.
Give us a call for a free estimate 685-1794.